Mackerel is a common name applied to a number of different species of pelagic fish, mostly from the family Scombridae. They are found in both temperate and tropical seas, mostly living along the coast or offshore in the oceanic environment. … Mackerel flesh is high in omega-3 oils and is intensively harvested by humans.
MACKEREL is one of the loveliest of fishes, one of the tastiest, one of the cheapest, and one that is still plentiful.
Mackerel has a firm texture similar to canned tuna so that it can be flaked without falling apart. Try swapping it in where'd you'd typically use chicken—like on a salad with a mustardy vinaigrette, tossed in a pasta, or tucked into a sandwich with buttered bread, sliced avocado, and some fresh greens.
Like salmon, mackerel takes well to a very simple treatment to let the flavor of the ocean fish come through. A drizzle of oil, a sprinkle of salt, a squeeze of lemon are all it needs to become dinner. But it can also stand up to more elaborate recipes.
Easy Canned Mackerel Recipes
1.Garlic Canned Mackerel Linguine Recipe
The garlic-seasoned main dish calls for handy pantry ingredients, including pasta and canned mackerel. Serve it with asparagus.
Ingredients
1 package (16 ounces) linguine
1/3 cup olive oil
3 garlic cloves, minced
1 can (14-3/4 ounces) mackerel, drained, bones and skin removed
3/4 cup chicken broth
1/4 cup minced fresh parsley
1/2 teaspoon salt
1/8 teaspoon cayenne pepper
Directions
Cook linguine according to package directions; drain.
Meanwhile, in a large skillet, heat oil over medium heat. Add garlic; cook and stir 1 minute. Stir in remaining ingredients; heat through. Add linguine; toss gently to combine.
2.Spring Canned Mackerel Chowder Recipe
You can't help but fill up on this creamy, cheesy mackerel chowder.
Ingredients
2 cups cauliflowerets
1 tablespoon water
2 tablespoons butter
2 celery ribs, thinly sliced
8 green onions, thinly sliced
2 tablespoons all-purpose flour
1/2 teaspoon salt
1/2 teaspoon dill weed
4 cups 2% milk
1 can (14-3/4 ounces) mackerel, drained, skin and bones removed
1 package (9 ounces) frozen peas, thawed
1/2 cup shredded Swiss cheese
1/2 cup shredded cheddar cheese
Directions
In a microwave-safe bowl, combine cauliflower and water. Microwave, covered, on high for 4-5 minutes or until tender, stirring once.
In a large saucepan, heat butter over medium-high heat. Add celery and green onions; cook and stir until tender. Stir in flour, salt and dill until blended; gradually whisk in milk. Bring to a boil, stirring constantly; cook and stir 2 minutes or until thickened.
Stir in mackerel, peas and cauliflower; heat through. Stir in cheeses until melted. Serve immediately.
 3.Canned Mackerel Patties Recipe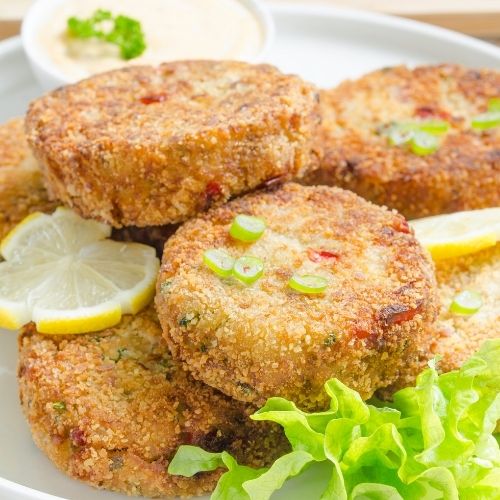 Made with canned mackerel, these patties are good hot or cold. I usually serve them on buns with slices of ripe tomato, sweet red onion, and red and green bell pepper.
Ingredients
1 cup seasoned bread crumbs, divided
2 green onions, finely chopped
1/4 cup finely chopped sweet red pepper
1 large egg, lightly beaten
1/4 cup mayonnaise
1 tablespoon lemon juice
1/2 teaspoon garlic powder
1/8 teaspoon cayenne pepper
2 cans (6 oz.) crabmeat
1 tablespoon butter
Instructions
In a large bowl, combine 1/3 cup bread crumbs, green onions, red pepper, egg, mayonnaise, lemon juice, garlic powder and cayenne; fold in crab.
Place remaining bread crumbs in a shallow bowl. Divide mixture into eight portions; shape into 2-in. balls. Gently coat in bread crumbs and shape into 1/2-in.-thick patties.
In a large nonstick skillet, heat butter over medium-high heat. Add crab cakes; cook until golden brown, 3-4 minutes on each side.
4.Canned Mackerel Sushi Rolls
So easy!
Ingredients
1 can (5 ounces) mackerel in water, drained
3 tablespoons mayonnaise
1 teaspoon chili oil (optional)
1 teaspoon sesame oil
1 teaspoon sesame seeds
Pinch of salt
4 sheets of nori (a traditional Japanese ingredient)
5 cups cooked sushi rice
4 leaves butter lettuce, washed
4 sticks cut English cucumber
Soy sauce for serving
Pickled ginger for serving
Instruction
Mix the canned mackerel, mayonnaise, sesame oil, a pinch of salt and, if you like, chili oil. You can adjust the spiciness to your taste and then set it aside.
Prepare the nori: Place a bamboo mat on a cutting board, and put a full sheet of nori on the mat with the rough side facing up.
Using wet hands, spread sushi rice across the nori sheet evenly, except for an inch at the top. Sprinkle sesame seeds over the sushi rice.
Assemble the sushi: Arrange a spoonful of the mackerel mixture, a stick of cucumber and a leaf of lettuce across the rice.
To roll, pull up the side of the bamboo mat nearest to you and fold it over the fillings.
Pull back the edge of the mat and continue to roll tightly until the whole roll is complete.
Cut: Let your canned mackerel sushi rest for a few minutes before cutting it into eight pieces with a sharp, wet knife. (This will prevent the rice from sticking and give you clean, even cuts.)