Moong Dal (yellow dal) is a healthy Indian comfort food prepared from yellow split lentils (green split gram without skin) and many spices. It is rich in protein and a staple food in India and the main source of protein for vegetarians. Serve it with rice and roti for a healthy wholesome meal.
Mung beans are called Moong Dal in India. Mung beans are also known as green gram or moong. In Indian Cuisine, both the whole lentils and the split ones are used.
The whole mung beans have a green color and when they are husks are removed, you see the yellow color of the beans.
Mung beans are a staple in Indian cuisine. We make a variety of dishes with it from stews, soups to sweet dishes.
According to Ayurveda, Moong dal is tridoshic meaning it balances all the three doshas which are Kapha, Vata, and pitta.
Moong lentils are highly nutritious and easy to digest. They are light on the stomach if cooked in a simple & minimal way, thereby making these an excellent food for small kids and convalescing people. In Ayurvedic diets or in detox diets, moong dal is a recommended lentil.
Difference between Dal Tadka & Dal Fry
Though both dal tadka and dal fry may look the same, the preparation and the final taste of each dish is different.
Dal Fry is made by cooking the lentils in a pan or pressure cooker. Onions, tomatoes, herbs and spices are sautéed in some oil and ghee. To this sautéed mixture the cooked dal is added and further simmered.
Dal Tadka is made by cooking the lentils with onions, tomatoes, ginger, garlic and green chillies. Spices like cumin, mustard seeds, dry red chillies and herbs like garlic or coriander leaves or curry leaves are fried in oil or ghee. This fried mixture of the hot oil with the spices and herbs are then added to the cooked dal.
Variations: Of course with both the preparations, you can always change the core ingredients (apart from the lentils) including the spices and herbs. Plenty of variations are possible in both dal tadka as well as dal fry recipes.
About This Moong Dal Tadka Recipe
This is one of the delicious dal, I make with yellow mung lentils which have been husked and are split.
Some people don't like moong dal as it is a little bland. But trust me this Punjabi moong dal tadka is not bland and taste very good.
It has the flavors of tempered cumin, garlic, garam masala, and red chili powder. Once you make this delicious moong dal recipe, you are not going to hate moong dal anymore.
This Moong Dal Tadka is extremely good with some steamed basmati rice accompanied by a side vegetable dish or raita. Have some roasted papad and lemon or mango pickle also by the side. True comfortable and satisfying meal.
I paired the moong dal tadka with some steamed sona masoori rice and aloo methi.
Some More Mung Dal Recipes
Cabbage Kootu –  tasty South Indian style recipe of cabbage and moong lentils with coconut and spices.
Yellow Moong Dal Fry – easy to make delicious dal with mung lentils, onions, tomatoes and spices.
Dhansak Recipe – a vegetable and lentil preparation from the Parsi cuisine.
Parippu Curry – a delicious moong dal curry made with coconut and spices.
Green Moong Dal – homely recipe of dal made with whole green moong beans.
How to make Moong Dal Tadka
1. Rinse ½ cup of moong dal (split husked mung lentils) in water.
2. In a pressure cooker add 1 medium sized finely chopped onion, 1 medium sized chopped tomato and ½ inch finely chopped ginger. next add ⅓ teaspoon turmeric powder and ¼ teaspoon red chili powder in the cooker.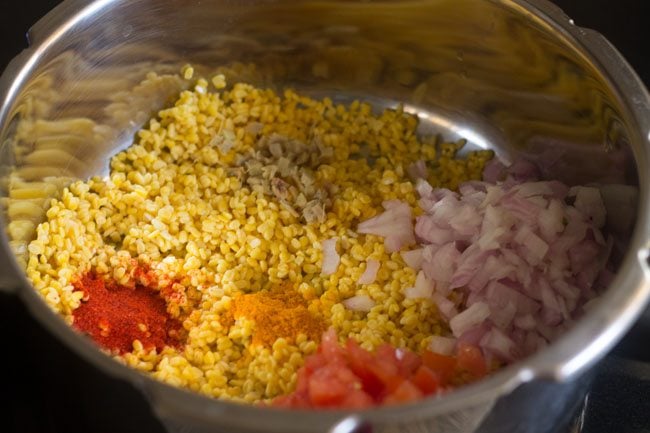 3. Next add 1.5 cups water to the cooker. Stir well.
Pressure cooking moong dal
4. Pressure cook for 5 to 6 whistles on medium flame till the dal is cooked and soft. Once the pressure settles down, remove the lid and stir the dal.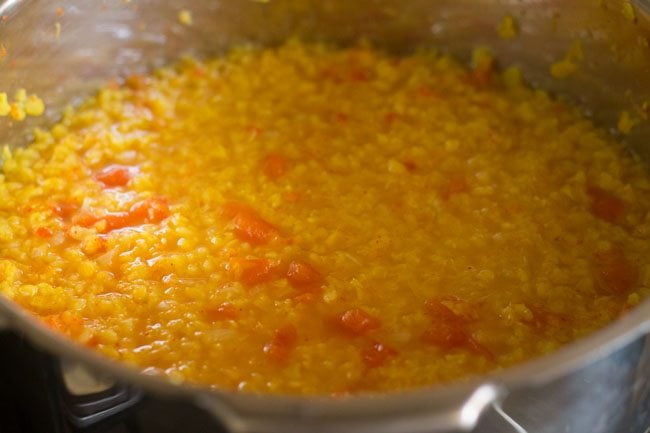 5. If the dal looks thick, then add some water.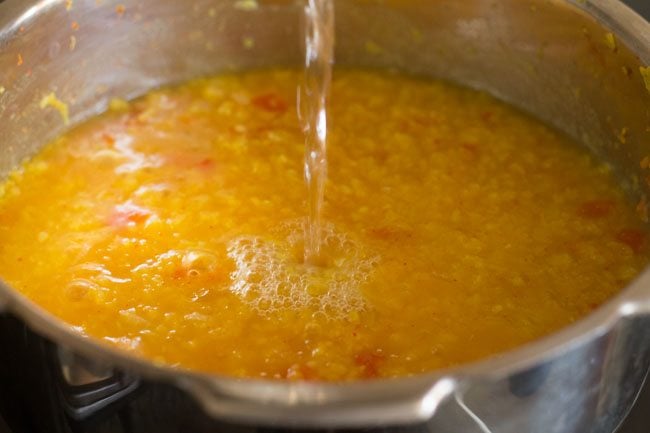 6. Simmer the moong dal for 1 to 2 minutes or more till you get the right consistency.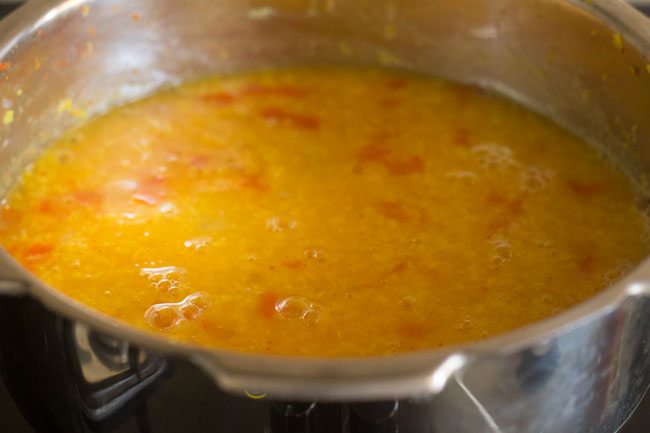 7. Add salt as required and stir well. Keep the dal aside.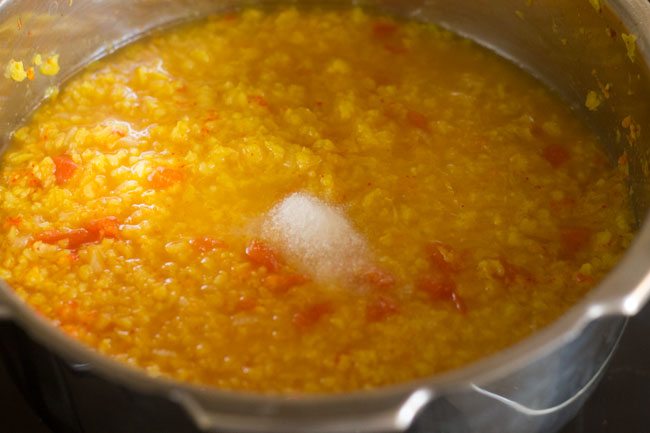 Tempering for Moong Dal
8. Measure and keep all the ingredients ready for tempering. In a small pan, heat 2 to 3 tablespoons oil or ghee or butter.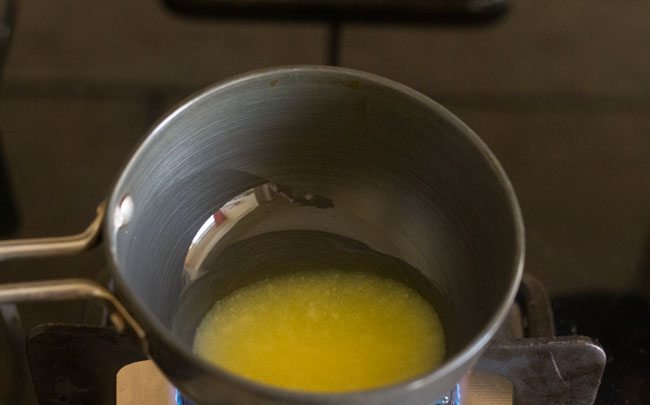 9. First fry 1 teaspoon cumin seeds. The cumin seeds should change color and crackle. Fry on a low to medium-low heat so that the spices do not get burnt.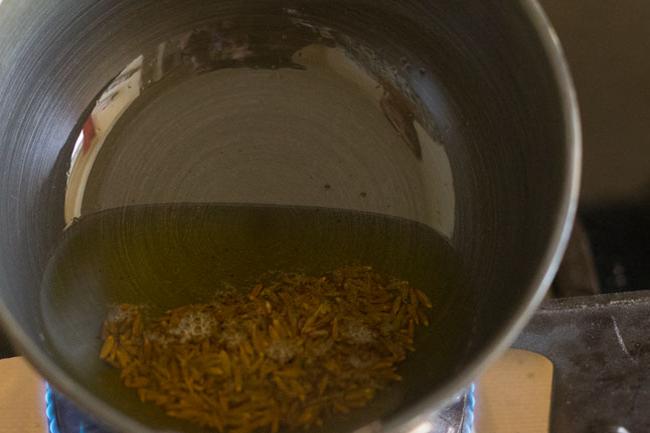 10. Next add 4 to 5 lightly crushed garlic cloves and 1 to 2 slit green chilies. Fry for some seconds. Don't brown the garlic. Switch off the flame.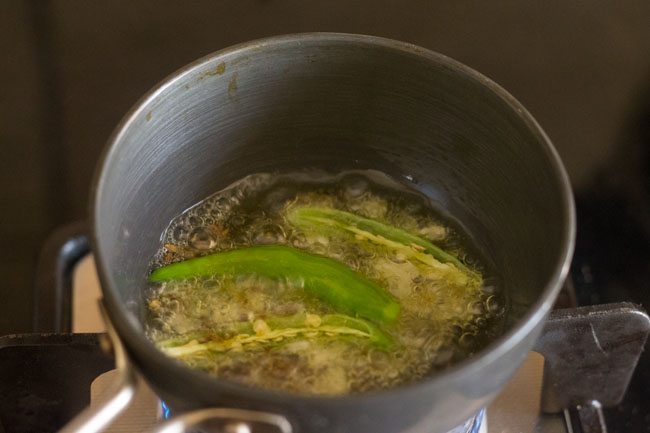 11. Now add ¼ to ½ teaspoon garam masala powder, ¼ teaspoon red chili powder and 1 pinch of asafoetida (hing). Switching off the flame ensures that the spice powders don't get burned.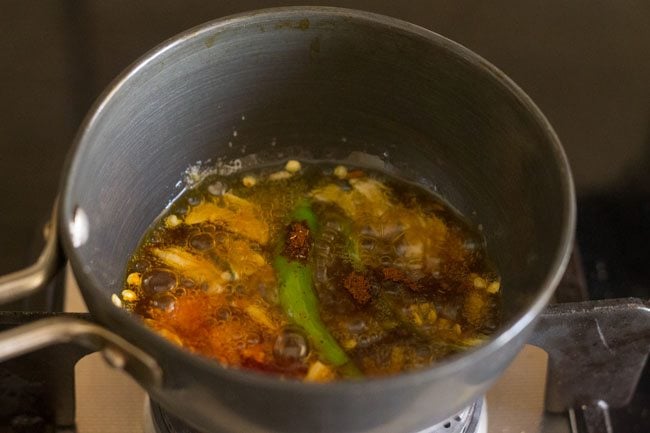 12. Quickly mix the spice powders well with a spoon.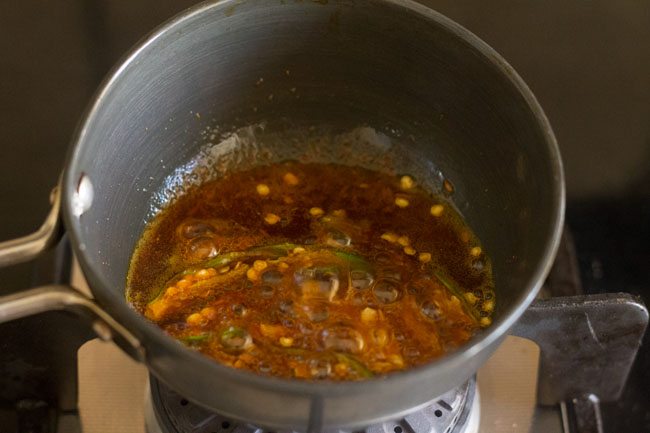 13. Immediately pour the tempering mixture in the moong dal.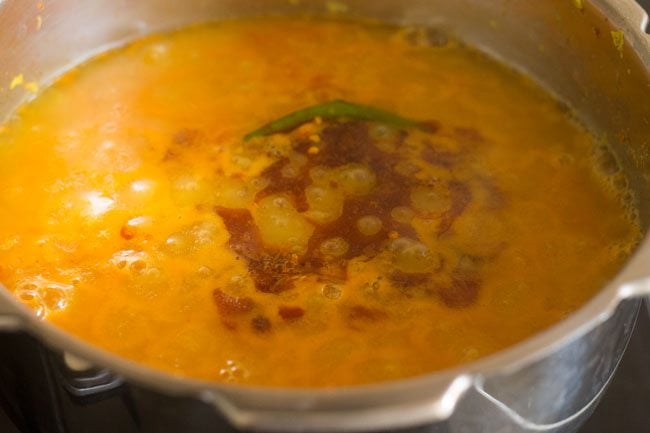 14. Stir the moong dal.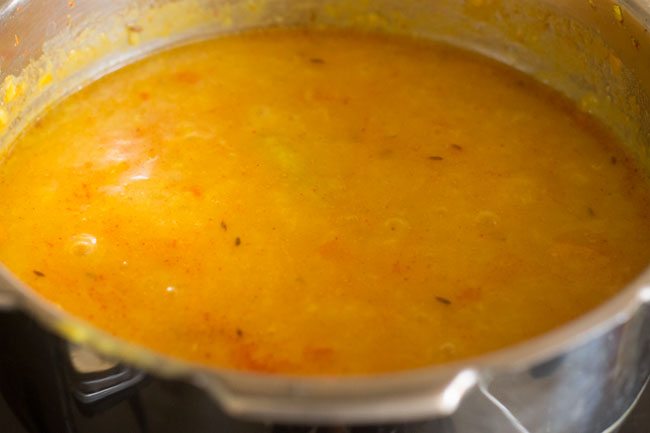 15. Serve Moong Dal Tadka hot with steamed rice or chapatis. The moong dal tastes better as it is and there is no need to garnish or add coriander leaves to it. But if you want you can always garnish with some coriander leaves. For a slight tang you can also squeeze some lemon juice.