Pani puri is an immensely popular Indian street food of crispy, hollow, fried dough balls (puri) stuffed with boiled potatoes or steamed moong sprouts or boiled chickpeas or white peas curry (also known as Magda) together with spicy tangy water and sweet chutney. Pani puri is a favorite chaat snack of many folks and ours too. With so many bursts of tastes and flavors in your mouth when you have pain puri, you just cannot have one 🙂
Table of Contents
What is Pani Puri
Pani Literally translates to water and here the Puris are fried puffed crisp dough balls that are hollow. Generally, the water or pani is sour, tangy as well as spicy. This spicy pani is balanced with the addition of sweet tamarind chutney.
This sweet chutney is called as Meetha (which means sweet) Pani. The spicy water is called Teekha (which means spicy) Pani. Both are added in the puri along with the main filling which consists of boiled potatoes, cooked chickpeas, moong sprouts or a thick dry curry made from white peas which is called as Ragda.
I don't know who invented Pani puri or how it came into existence. It is one of the popular street foods in India. Whereas in Mumbai, we call it pain puri. In the northern states, it is called Golgappa and in Bengal, it is called as Puchka. In Bihar and Jharkhand it's known as Gupshup. So their various ways this street food snack is made and enjoyed.
This is an easy pani puri recipe as you don't need to make the sweet tamarind chutney.
The pani recipe that I share is spicy, tangy as well as sweet. However, if you want a sweeter taste, you can make the sweet chutney.
This pani or spiced water recipe is my mom's recipe and to save time she would make the pani in such a way that it would have all the three major tastes – spicy, tangy and sweet. So all three tastes – teekha, khatta and meetha taste in just one pani. Otherwise generally both the spicy chutney and sweet chutney are made separately.
Pani puri is my most favorite chaat from childhood. I used to have them often with my family on the streets of Mumbai (Bombay) and it was something I have thoroughly enjoyed.
If you are a foodie then there few more delicious street food recipes from Mumbai which you can easily make at home like:
Ragda Patties
Pav Bhaji
Bhel Puri
Sev Puri
Misal Pav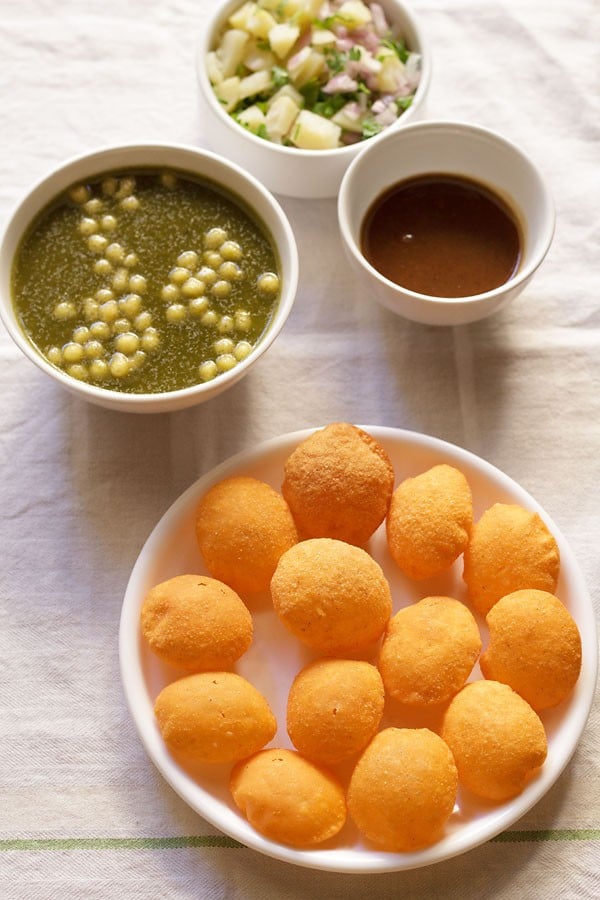 Step-by-Step Guide
How to make Pani Puri
1. Rinse 1 cup tightly packed coriander leaves, ½ cup tightly packed mint leaves, 2 to 3 green chilies and 1 inch ginger very well in water a few times. Drain all the water.
Peel the ginger and roughly chop it. Also chop the green chilies. Roughly chop the coriander leaves and mint leaves. Don't use the stem of mint leaves as they can make the spiced water have a bitter taste. Only use the fresh mint leaves.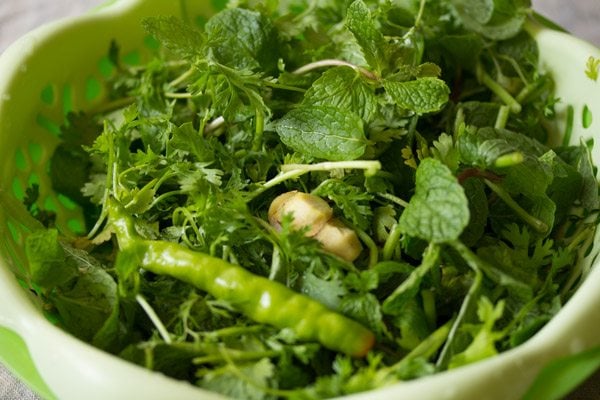 2. Add coriander leaves, mint leaves, ginger and green chili in a grinder or blender jar. For a less spicy pani you can add just 1 chopped green chilli.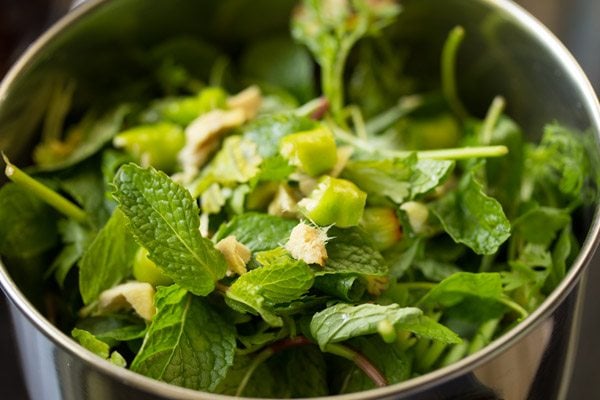 3. Add 1 tablespoon tightly packed tamarind and 3.5 to 4 tablespoons jaggery powder or grated jaggery.
If you do not have tamarind, then you can use 2 tablespoons lemon juice. You can also use equal amounts of jaggery and dates. So you can add 2 tablespoons crumbled jaggery and 2 tablespoons chopped dates.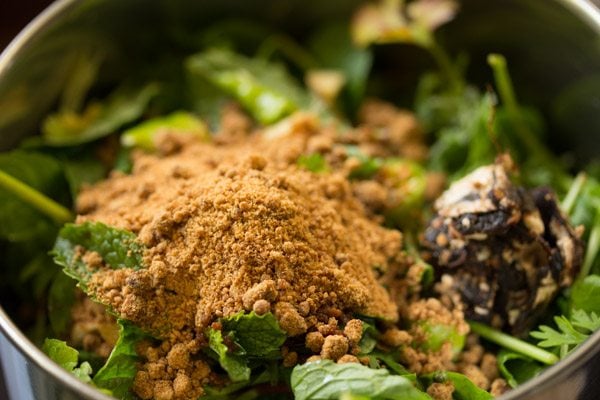 4. Now add 1 teaspoon roasted cumin powder, 1 teaspoon chaat masala and salt as per taste. You can also use a mix of black salt and pink salt or regular salt. I personally prefer to use either black salt or edible rock salt.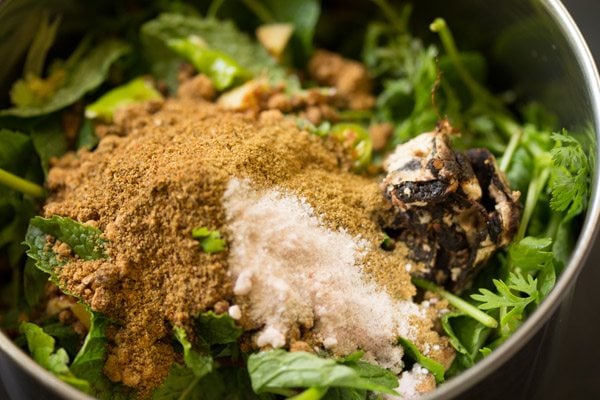 5. Add ⅓ cup water and grind to a smooth consistency.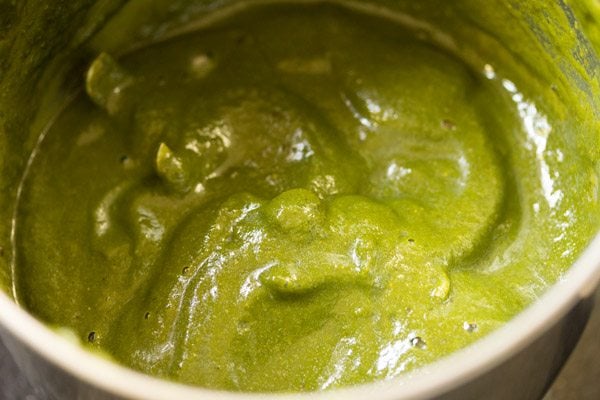 6. Remove the chutney to a bowl or a small pan.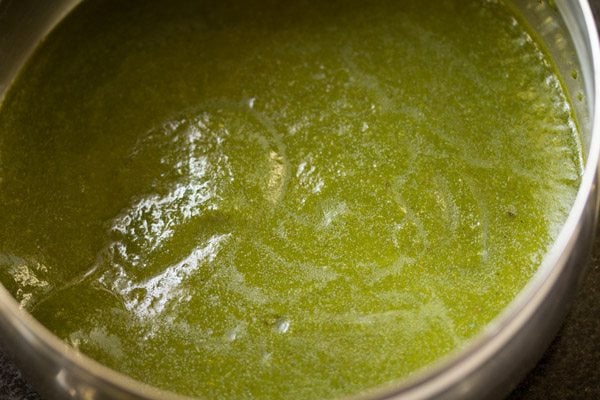 7. Now add ½ cup water in the grinder jar and swirl the jar so that the chutney at the sides of the jar gets mixed with the water.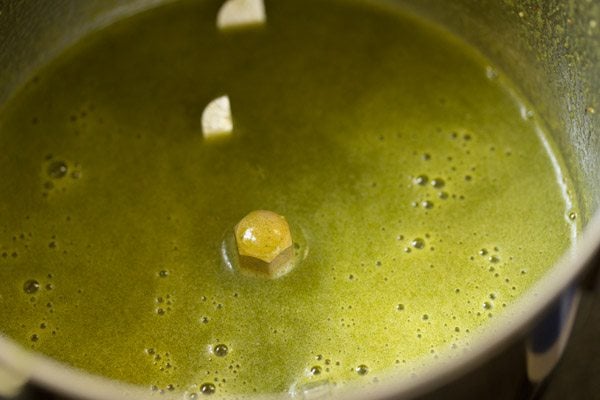 8. Add this water to the bowl containing the chutney.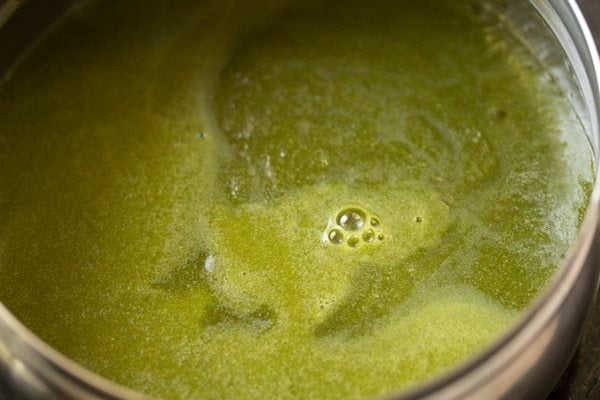 9. Then add ½ to ¾ cup water. You can add less or more water depending on the consistency you want. But do not add too much water as then the taste and flavor of the spiced water reduces. Also check the taste and if required you can add some more jaggery or salt as required.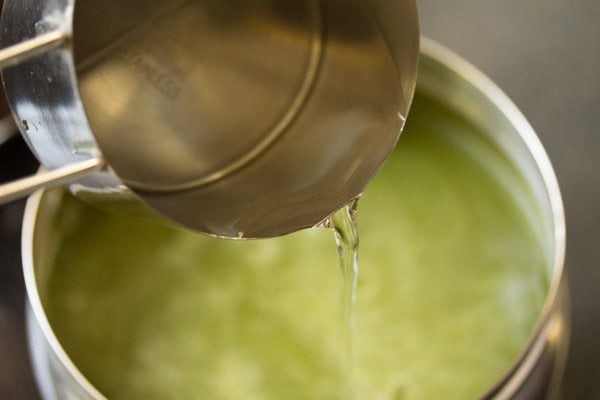 10. Mix very well. Cover the pan and refrigerate the pani. Before refrigerating you can also add 1 to 1.5 tablespoons of salted boondi.
Boondi also gives a good taste. It can also be made at home or purchased easily from grocery stores.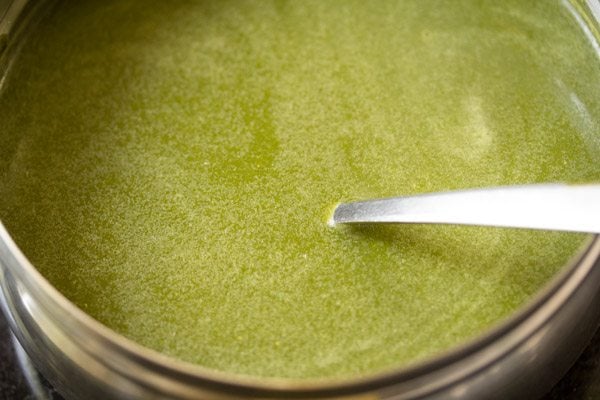 Making potato filling for pani puri
11. Boil 2 to 3 medium-sized potatoes. You can boil or steam the potatoes in a pan, instant pot or stovetop pressure cooker adding water as required.
When warm, peel them and chop them into small cubes. You can also add some steamed or boiled moong sprouts. Some finely chopped onions can also be added. I have added 1 small-sized finely chopped onion.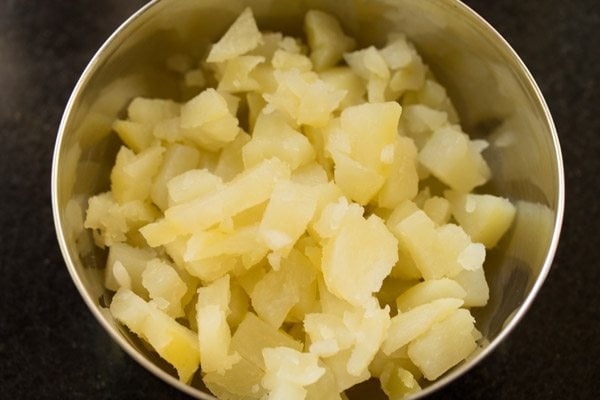 12. Add 1 to 1.5 tablespoon chopped coriander leaves.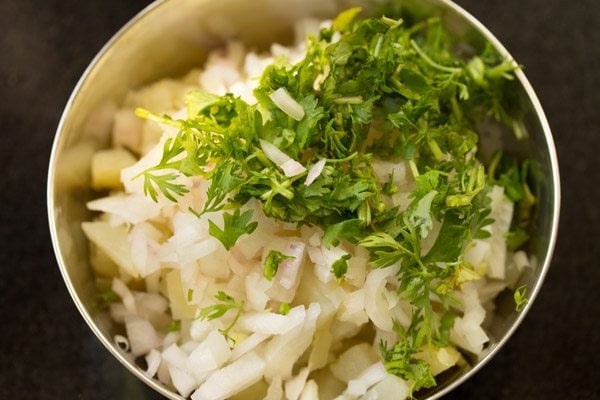 13. Then add ¼ teaspoon red chili powder, 1 teaspoon chaat masala and 1 teaspoon roasted cumin powder. Also add salt as per taste.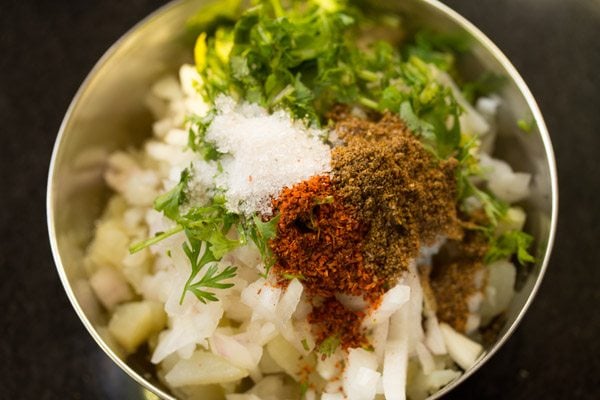 14. Stir and mix very well. Keep aside.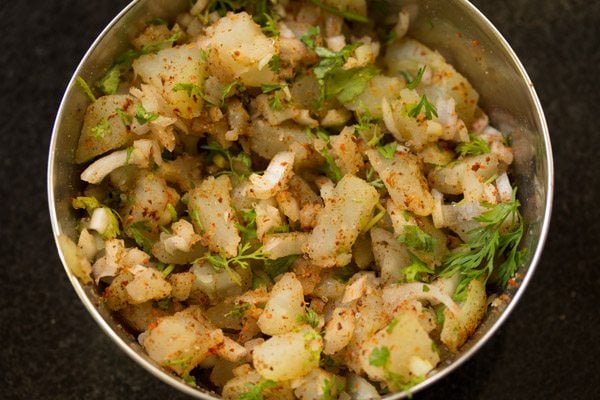 Assembling Pani Puri
15. Keep everything ready before you start assembling the pani puri. The potato filling, pooris and the spiced water.
In the photos below, I have made sweet tamarind dates chutney, just to show the assembling.
First crack the top of the puri with a spoon or with your fingers or thumb. Then stuff the potato filling in the puri with a spoon.
Add a few teaspoons of sweet chutney or as per your choice. The addition of sweet chutney is optional for the pani recipe shared in this post.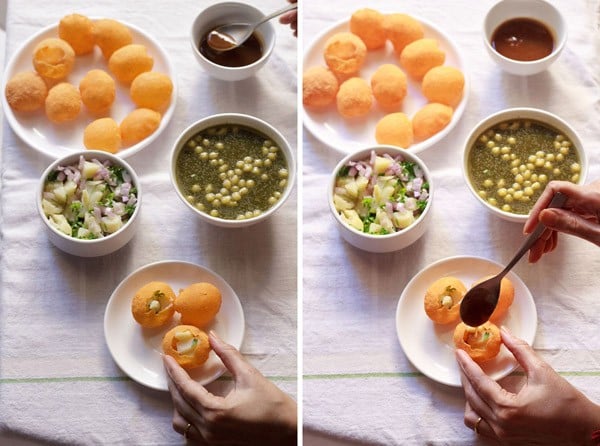 16. Then add a few teaspoons of the green spiced water or as per your choice.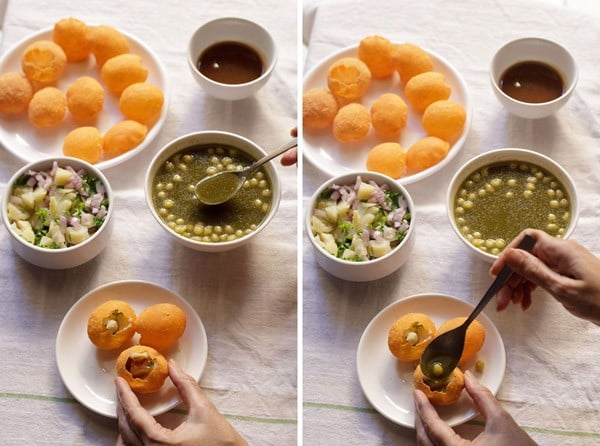 17. The pani puri is ready to serve. Pop in your mouth, eat every bite and enjoy the burst of various flavors and textures. Make sure to eat them immediately as you prepare each puri.
They have to be had immediately. Or else the puris become soggy. To make a Mumbai style pani puri recipe, use ragda or moong sprouts as the filling.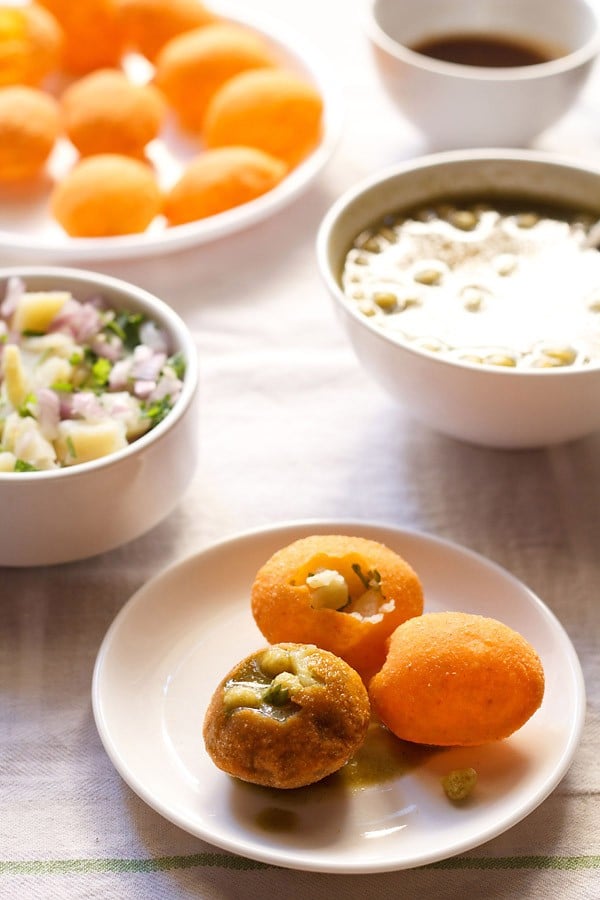 Helpful Tips for Pani Puri
The puri or pooris for making pani puri are made from flour or sooji (cream of wheat or rava) or both. These can be brought ready from the stores or can be made at home too.
If you want to make pooris at home, then check this post -> Puri recipe for golgappa.
For the stuffing, you can use your choice of fillings. At home we prefer moong sprouts or ragda. You can also use boiled potatoes and onions. Even boiled white chickpeas or black chickpeas can be used along with boiled potatoes.
Assemble everything before you begin to make pani puri.
You can prepare the spiced water before a few hours and then chill it in the fridge. You can also make it overnight and keep it in the fridge.
Adding ice cubes may dilute the taste and flavor of the water.
Addition of black salt gives a really good taste and flavor. So if possible do try to add black salt in the pani recipe.