Potatoes aren't usually thought of as nutritious. However, this all-purpose vegetable has some surprising health and nutrition benefits. Although french fries and potato skins may be heavy in fat and calories, the potato itself is fat and cholesterol-free as well as low in sodium. Prepared the right way, potatoes can make a delicious, satisfying, and healthy dish.
Potatoes are the most commonly consumed vegetable in the United States. In 2017, it was calculated that each person consumed 49.2 pounds of potatoes. This beloved vegetable is easy to grow and is used in countless dishes across the country year-round.
Health Benefits
Potatoes are a good source of fiber, which can help you lose weight by keeping you full longer. Fiber can help prevent heart disease by keeping cholesterol and blood sugar levels in check. Potatoes are also full of antioxidants that work to prevent diseases and vitamins that help your body function properly.
In addition, potatoes can provide the following health benefits:
Digestive Health
The fiber found in potatoes is a special type called "resistant starch," which has the health benefits of both soluble fiber and insoluble fiber and causes less gas than other types of fiber. You can up the amount of resistant starch in potatoes by cooking them a day ahead of time and cooling them in the fridge overnight. Feel free to reheat them before you eat.
Like soluble fiber, the resistant starch in potatoes acts as a prebiotic – food for good bacteria in the large intestine that improves gut health. Like insoluble fiber, it can prevent or treat constipation and irritable bowel syndrome.
Disease Prevention
Potatoes are packed with antioxidants — compounds that fight free radicals from causing damage to your cells. A diet high in antioxidant-rich fruits and vegetables lowers your risk of heart disease and cancer. 
To get the most out of potatoes, leave the skins on and choose colorful types such as purple potatoes. The more color in the potato, the more antioxidants it contains. On top of that, the skin of the potato can have up to 12 times more antioxidants than the flesh. So, don't be afraid to eat your potato skins.
Lower Blood Pressure
Baked potato skin is a great source of potassium and magnesium. When you don't have enough potassium in your diet, your body retains extra sodium, and too much sodium raises your blood pressure. A potassium rich diet can help decrease blood pressure, protecting the heart and reducing the risk of stroke.
Potato Recipes
1.Pakistani Style Potatoes Bhujia With Besan Ki Roti
Potatoes stirred in with cross border flavors. Made in desi ghee, a mash up of potatoes, capsicum, sweet corn, cabbage and a few spices. Served with freshly made besan ki roti.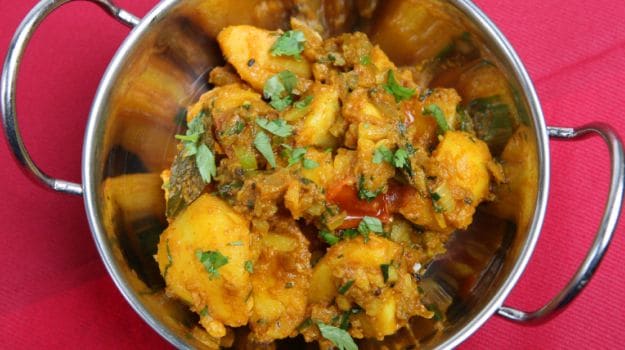 2.Dum Aloo Lakhnavi
Dum aloo made Lakhnavi style! Fried potatoes stuffed with paneer, mingled in a rich, masaledar onion and tomato gravy. Great for laying out an elaborate spread!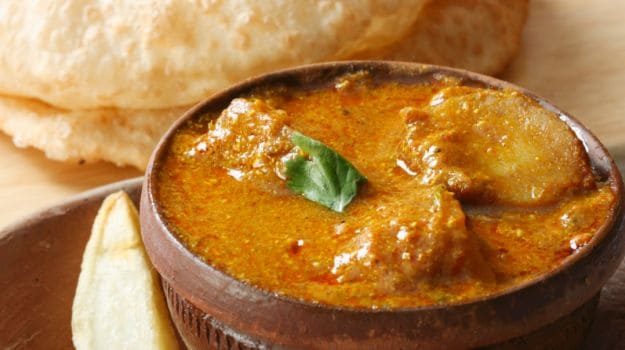 3.Batata Vada
A popular snack from the streets of Maharahtra. Batata translates into potato in English. Mashed masaledar potatoes coated in a thick besan (chickpea flour) batter and deep fried till golden. Served with a tangy chutney.